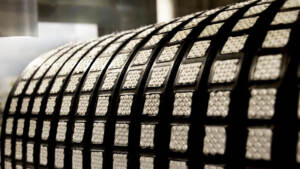 RubberSource offers a wide range of high-quality pulley lagging materials designed to improve the performance of conveyor systems in various industries. We understand that different applications require different solutions, which is why we offer a variety of pulley lagging materials, including rubber with diamond patterns and rubber with ceramic combinations.
Our ceramic pulley lagging material features high-quality 92% alumina ceramic tiles embedded in premium-quality rubber, with a bonding layer material for ease of application. This combination provides exceptional wear resistance, making it an ideal choice for heavy-duty applications in mining, cement, and other harsh environments. RubberSource's RS-CL15 with a chloroprene bonding layer is used as protective surface to improve and extend pulley life in applications for extreme conditions in wet and muddy areas. RS-CL15 has developed high quality ceramic lagging with chloroprene bonding layer for easy and quick installation. RS-CL15 ceramic lagging is made of high quality alumina tiles, high quality abrasion resistant rubber and backed with chloroprene bonding layer. The USP of our ceramic lagging is its 0.5m width up to 10 meters in length. Five meters is the standard length.
Rubber with diamond patterns, RS-PL60B, is a popular choice for pulley lagging as it offers exceptional grip and helps to reduce slippage in conveyor systems. The diamond pattern increases the surface area of the lagging, which results in improved traction and reduced wear on the belt. All of our pulley lagging solutions also feature a bonding layer for ease of application, ensuring a quick and efficient installation process.
At RubberSource, we understand the importance of using high-quality materials in conveyor systems to ensure maximum efficiency and reliability. Our pulley lagging materials are designed to provide superior performance and long service life, giving our customers peace of mind in their operations.
With our extensive inventory and competitive pricing, we're your go-to source for all your pulley lagging needs. Contact RubberSource today to learn more about our pulley lagging materials and how they can benefit your conveyor system. Our experienced team is ready to assist you in selecting the right materials for your specific needs.
Product Information:
Request a Lining Recommendation and Quote or Find a Qualified Installer